CABINET REFINISHING
-SANDY, UTAH-
WOODWORKS REFURBISHING
Kitchen Cabinet Refinishing in Sandy
Over time and with normal wear and tear, it's natural for you to see your cabinets become sun-faded, dull, and/or damaged. Before you plan on cabinet replacement, we have a much more affordable option for you! WoodWorks Refurbishing kitchen cabinet refinishing in Sandy actually utilizes your existing cabinetry and updates the color or finish. So if you don't need to change the layout of your current cabinets, but would like to refinish them or try a new fun color, cabinet refinishing is a great option!
A lot of people consider the kitchen as one of the most important rooms in the home. With so much time spent in the kitchen, we know cabinet refinishing is an important decision to make. We will continually communicate with you throughout the process to make sure we get it right the first time. Sure, you could try your luck with a YouTube tutorial or let a friend that hasn't done cabinets before give it a go. Or you could even take the plunge and spend thousands of dollars by choosing cabinet replacement. Your kitchen cabinets are an investment, but it shouldn't cost an additional arm or leg to update them.
WoodWorks Refurbishing in Sandy restores and refinishes your kitchen cabinets without the unnecessary cost of cabinet replacement. Your existing cabinets will LOOK like new cabinets but without the expensive price tag. Our before and after pictures prove it! We are professionals and have been transforming kitchens and bathrooms in Utah homes since 2006. When your cabinets start looking yellow, don't feel like you have to figure out how to stain them on your own. We can help!
Wood Refinishing Protects, Rejuvenates & Allows Your Wood to Endure Years of Use
The kitchen is one of the most central rooms in your home and we do our best to make sure it matches your style and look the very best it can. It's really unfortunate how many people admit they no longer love the style or quality of their cabinets or wood products. Our affordable cabinet or wood renewal services have the ability to dramatically change the style, color, and feel of your kitchen. We also always apply a good protective finish because they are vital for lasting protection.
WoodWorks Refurbishing professionals understand all different kinds of wood species, environmental conditions, and stains/finishes. The knowledge we have gained over the years enable us to always be able to provide you with cabinet refinishing services that look great and last!
—Sandy Kitchen Cabinet Refinishing—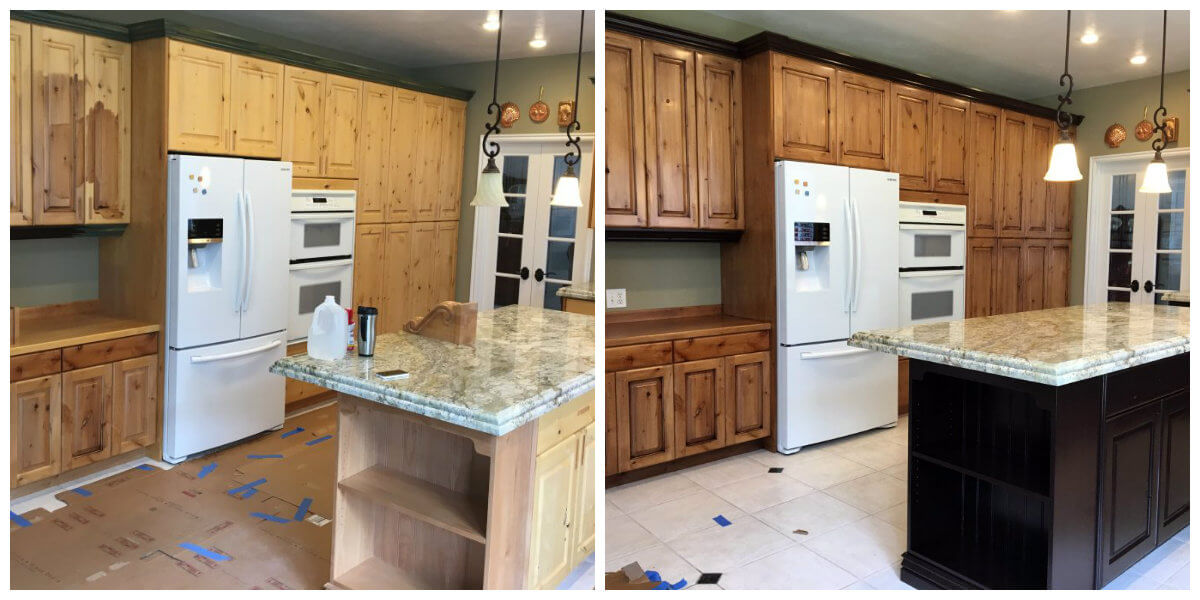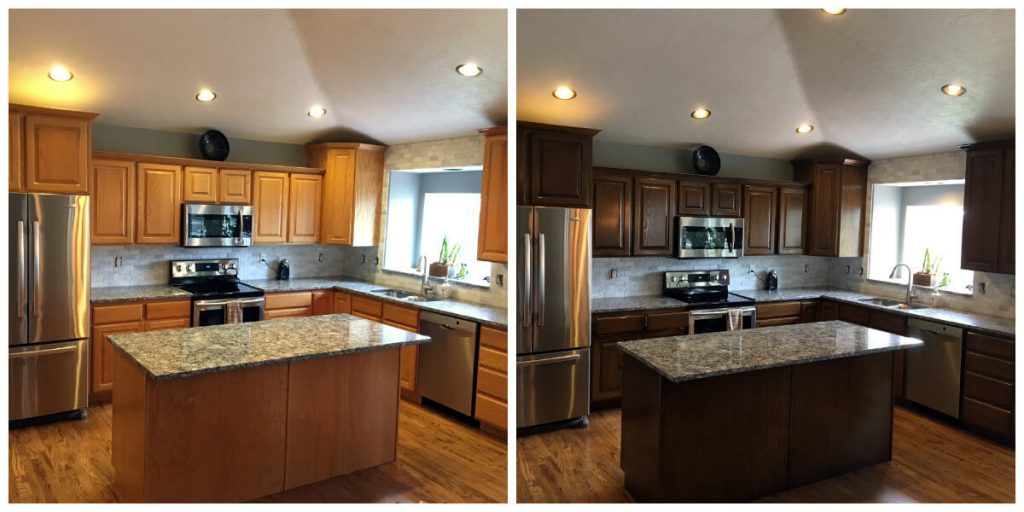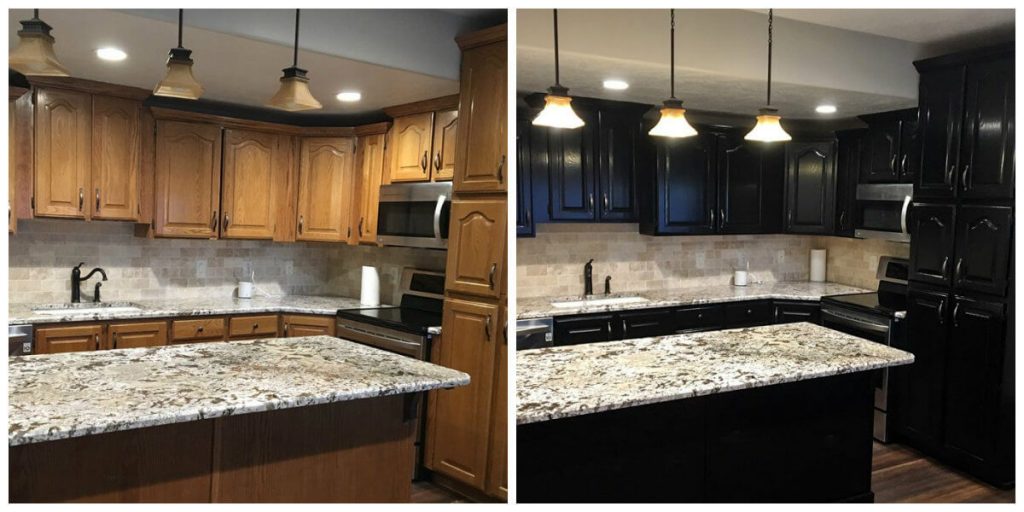 A Cabinet Refinisher in Sandy You Can Trust
"Very pleased with the exceptional results in our home! It was a large project with many working parts and variables. Woodworks was very good at accommodating our requests and explaining everything in detail. Their crew was always punctual, always cleaned up and were true craftsman with the detail and quality of our wood and cabinet refinishing! I trusted them in our home and they were top notch in every conceivable way."

— Charles R.

★★★★★ Google Review
We work diligently to offer Sandy a cabinet refinishing service that is both affordable and high quality. Give us a call today at (801) 913-3672 for a FREE ESTIMATE and to get started on updating your kitchen today!
Sandy Cabinet Painting and Cabinet Staining/Refinishing Services.
Cabinet Refinishing Near You
WoodWorks Refurbishing is a locally owned and operated company, based out of Providence, UT. We've served Northern Utah since 2006! Learn more about our cabinet refinishing service near you.
WoodWorks Refurbishing
482 Garden Dr | Providence, UT 84332
(801) 913-3672
Meet the Owner of WoodWorks Refurbishing
WoodWorks Refurbishing Inc. was founded by Derrick Norman in 2006. After experiencing dozens of different jobs in a myriad of industries, he reverted back to his lifelong passion of working with his hands and entrepreneurship.
He lives by and is often found quoting his favorite quote by Thomas Edison, "Opportunity is missed by most people because it is dressed in overalls and looks like work." After graduating from Utah State University in Logan, Derrick took his cabinet refinishing business and passion all over Northern Utah—he has since refinished thousands of kitchens.
Derrick, his wife, and four children reside in beautiful Cache Valley. He thoroughly enjoys the scenic views and canyons he gets to routinely drive through to reach his different job sites around the state.
His other passions include fishing, hiking, camping, backpacking and "quite literally anything that has a motor." Derrick believes in good old-fashioned hard work and creativity. He enjoys working with and getting to know each and every one of his clients. He is excited for the opportunity to help you on your next wood refinishing project!