Blog
You've probably noticed that interior decorating magazines and social media feeds are full of beautiful, wood kitchen cabinets. In fact, a lot of people stain natural wood when it comes to the cabinet refinishing portion of their kitchen remodel. So what makes stained wooden cabinets so popular? Why Stained Wood Kitchen Cabinets Are Here To Stay As opposed to a solid colored cabinet, stained wood cabinets break up the monotony in a kitchen by adding dimension and texture. Cabinet refinishing or staining maintains the integrity of the...
read more
The kitchen is the heart of any home—a place where we spend a lot of our time. You probably have a clear idea of what your dream kitchen would look like. When making that dream a reality, be sure to avoid these common mistakes people often make when choosing their cabinet color and staining their cabinets. Mistake #1 – Not Choosing The Right Color Choosing a trendy color is the most common mistake people make. A neutral color or a natural wood stain not only increases your resale value but also helps ensure you won't get sick of...
read more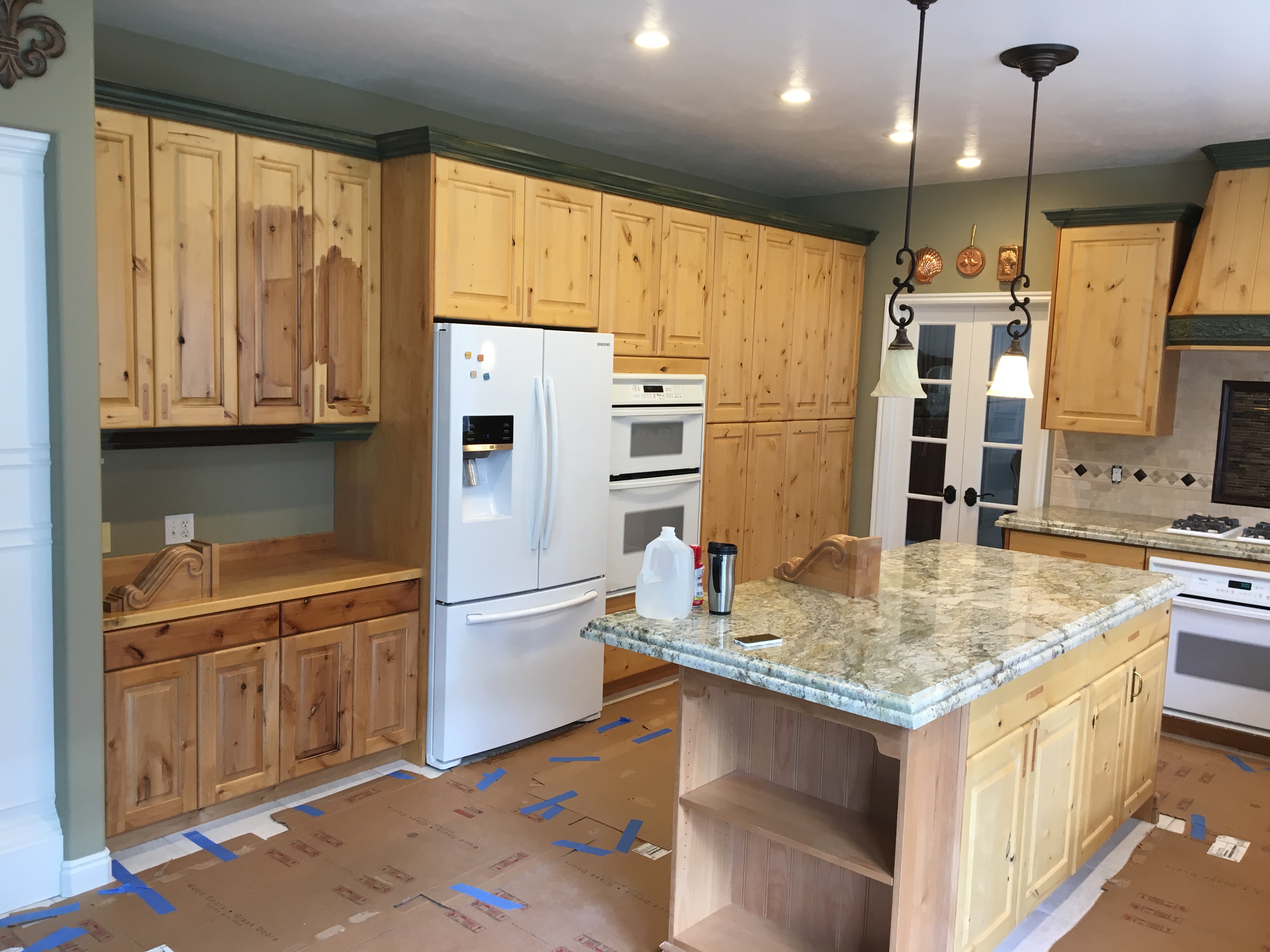 Planning for a kitchen remodel? What is the best way to save money while doing it? Do you remodel piece by piece or go all in at once? More often than not, the most cost-effective way is to go about your remodel piece by piece. So is it going to be new cabinets or a new countertop? Wait, I'm going to throw a curve ball here. Have you considered…cabinet refinishing? Cabinet refinishing is probably the best of both worlds. Here's why: No demolition. You don't need to rip out all your appliances and cabinets....
read more
Have you seen the tiny house trend? Many people are downsizing and illustrating the importance of maximizing the space they do have. (You can read about the tiny house movement here.) Of course, you don't have to live in a tiny bungalow to know that sometimes saving space makes a world of difference. Often, kitchens in older homes were just built in a compact way. Or hey, maybe you just have a lot of food and things you need to organize. We're here for you! First you're going to need to go vertical. If there is any...
read more
A large kitchen with plenty of storage space is surely every homeowner's dream, but that kind of a kitchen can be hard to come by. These days, it's not uncommon to find apartment kitchens that don't have a pantry. Without it, you're going to have to get creative about storing food and utensils.  Opt for space-saving containers You'll likely have to reserve some of your cabinet space for your food, and this is where space-saving airtight containers will prove invaluable. Consider keeping kitchen staples like flour,...
read more
If you have recently upgraded your cabinets, whether through WoodWorks Refurbishing or another company, you should be set with high-quality cabinets for years to come. Of course, you'll want to consider how you're going to keep these cabinets looking clean and fresh. Here are some of our basic cleaning tips for maximizing their lifespan and usefulness. Here are some of our basic cleaning tips. Weekly Cleanings Some areas of kitchen cabinets need to be cleaned every week, especially the doors under countertop areas. This...
read more
Planning any DIY remodeling project comes with two main emotions. First, there is the excitement. When you look over DIY stories and photos online you see the awesome results people can accomplish. You see the light – the way your home might look after months of work; you can already feel that sense of accomplishment at the end of a project well-done. The future is bright! Then, comes the realistic wave of expectation: the dollar bills stacking up, the dust, the noise and the late nights. What do you call that...
read more
Please raise your hand if you've ever felt personally victimized by just the thought of updating your cabinets. When you grab that paint bucket in the store, you're hit with fears of unwanted stains and hours of work, killing any inkling of productivity you may have felt. When updating a kitchen, it's daunting enough trying to make it all work – never mind doing it on a budget. Well, there's good news: Updating your kitchen doesn't have to be that daunting. With the right tools and experience at your...
read more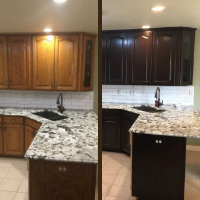 The holiday season is in full swing. If you're like many Utah residents, you've been frantically trying to find the perfect gift for friends, close family, and new relatives you don't know very well yet. It's a busy time of year, that's for sure! Cabinet Refinishing for the Holidays You've been busy finding the perfect gift for your loved ones, but now it's time to buy the perfect gift for your home! Kitchen cabinet refinishing is one of the best alternatives to complete replacement. In most...
read more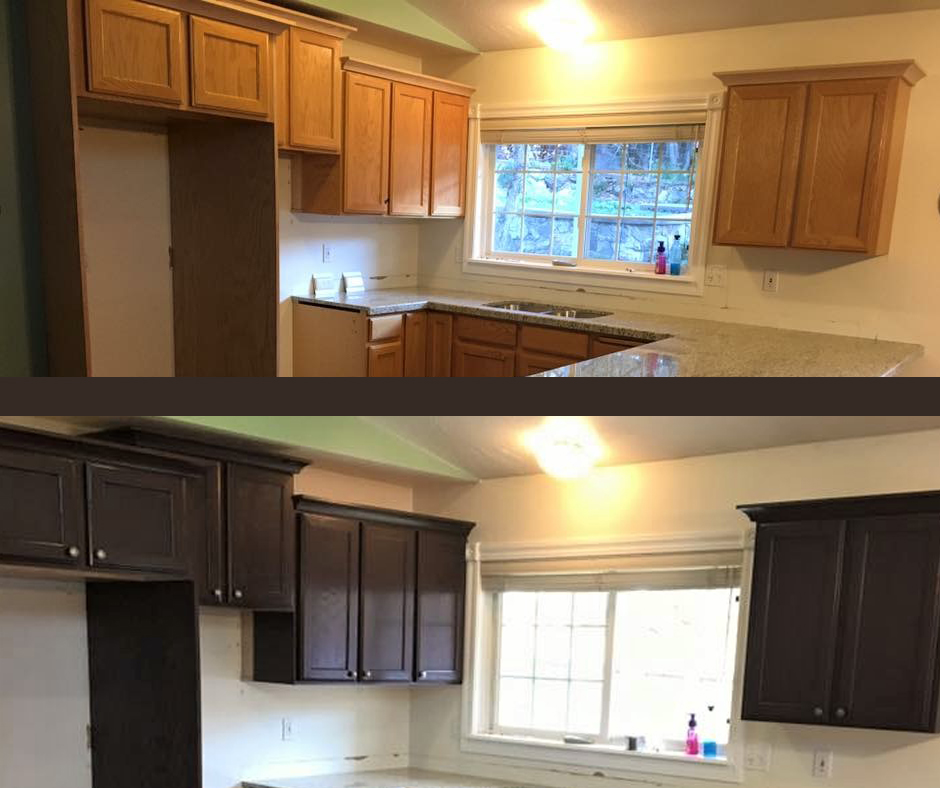 It's a beautiful time of the year! Thanksgiving is just around the corner, which means the leaves are changing, the temperature is cooling down, and we have family get-togethers to look forward to! If your house is the dedicated meeting place for Thanksgiving dinner, it just might be the right time to look into kitchen cabinet refinishing. Make sure you call us, and we'll get your kitchen cabinets looking better than ever! How our cabinet refinishing process works: You choose your ideal color Cabinet face frames are taped and...
read more